Putin blames West for Ukraine crisis during trade visit to Egypt
Comments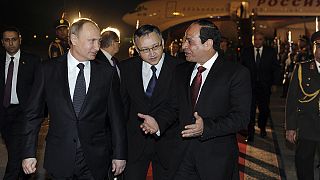 Russian President Vladimir Putin has blamed the US and the European Union for what he called their "expansionist policies" for the crisis in Ukraine.
The Russian leader was speaking to journalists in Cairo where he has begun a two day trip to forge economic and policital ties.
Putin once again denied direct Russian involvement in the conflict and warned Kyiv to stop its military operations in the east and to hold talks with the rebels.
Russia suffering under Western sanctions over its support for Ukrainian separatists has its own economic problems. The trip to Egypt reflects Putin's determination to show he has other friends.
An evening visit to the opera involved the showing of a documentary on Russian Egyptian relations – highlighting the 1950s and 1960s when Egypt was Moscow's closest Arab ally.