[As it happened] Europe's IXV spaceplane mission success
Comments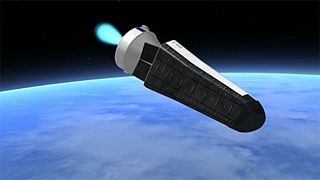 Europe has been given a huge boost after the continent's first spaceplane completed a successful research mission by splashing down safely in the Pacific Ocean on Wednesday afternoon.
The European Space Agency (ESA) sent the car-sized craft into space from French Guiana around 14h40 CET, after a 40-minute delay.
It is hoped the re-entry of IXV into the Earth's atmosphere will provide vital data to help improve the ESA's back-to-earth technology. It could pave the way for the development of Europe's first reusable space transportation system.
Giorgio Tumino, IXV's project manager, said: "This was a short mission with big impact.
"The cutting-edge technology we validated today, and the data gathered from the sensors aboard IXV, will open numerous opportunities for Europe to develop ambitious plans in space transportation for a multitude of applications."
To see how the mission unfolded, see our coverage below, which includes comments and updates from Euronews' space expert Jeremy Wilks, who was reporting from the mission's control centre in Turin, Italy.
In the window above, there is a video of the spaceplane's launch.