Costa Concordia captain's actions
Comments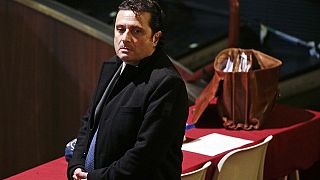 On the night of 13th January, at around nine o'clock, the Costa Concordia approached Giglio, sounding its horn in a salute to the Tuscan island's 800 inhabitants.
Captain Francesco Schettino at the helm gave the order that took the vessel outside its authorised course.
At just after twenty to ten, the ship struck rock, tearing open the hull, and a power system failed.
More than 4,200 people were on board. Through the public address system they were told the blackout was due to an electrical fault that was under control, though the Costa had already started to keel over.
Video taken in the hour that followed the impact showed the confusion on the command deck.
An officer is heard telling Captain Schettino that passengers are getting into lifeboats spontaneously.
Schettino says: "Okay, let them head for shore."
The officer asks whether to sound a general emergency.
And Schettino says: "Wait, wait."
The officer insists: "Emergency signal…"
And then Schettino says: "Abandon ship, abandon ship!"
The alarm was sounded one hour after the initial collision. Evacuation was managed chaotically. There weren't enough life rafts. Passengers jumped into the sea in darkness.
Video taken from an emergency services helicopter shows Schettino transferring to a rescue vessel, leaving hundreds of other people on board the Costa Concordia.
The Coast Guard commander, Captain Gregorio di Falco by this time was shouting at Schettino, by radio.
"Get back on board, that's an order! No more excuses! You said you have abandoned ship, that puts me in charge! You go on board!"
Schettino was dubbed 'Captain Coward' by Italian public opinion, but he has always rejected blame, deflecting it onto his crew, saying they misinformed him, and saying that the Earth's gravity caused him to leave his ship in haste.