Nigeria and neighbours announce multi-national force to confront Boko Haram
Comments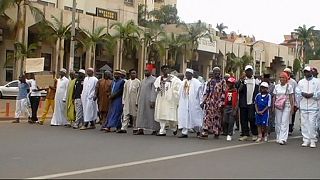 At a meeting in Cameroon, Nigeria and its four neighbouring countries have agreed to send an 8,000 plus force to confront Boko Haram.
The conflict is now moving across the region with the extremists launching attacks in Cameroon and Niger last week.
In Yaounde people took to the streets to call for action:"All the regions of Yaounde, all the people of Cameroon, we are saying "no" to Boko Haram! We are for peace and national unity. We say 'no, no, no to Boko Haram," screamed one protestor.
Nigeria and Chad will deploy 3,500 troops each with Cameroon, Niger and Benin adding another thousand.
The African Union announced the initiative:"The results of the deliberations have noted the urgency of the need for a deployment of the forces. This is needed to deal with the scourge of Boko Haram. This will be informed by the current arrangements that have been undertaken and the forces will be made available and some of them are already on the ground."
Nearly 100 people were killed and 500 injured in the village of Fotokol in Cameroon last week as Boko Haram fighters unleashed indiscriminate carnage, burning mosques and churches and slaughtering civilians.