Pro-air strikes, anti-ISIL: Thousands attend rally in Jordanian capital
Comments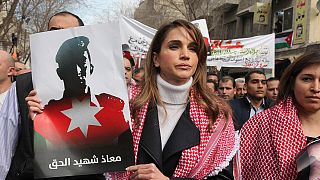 Thousands took to the streets of Amman on Friday (February 6) to protest at the murder of Jordanian pilot Mouath al-Kasaesbeh.
He was filmed being burned alive by Islamic State militants.
Queen Rania joined those marching in Jordan's capital.
Her Majesty Queen Rania participated in the largest march the country has ever witnessed - Downtown Amman. #IamMuathpic.twitter.com/D1FfuYZvHz

— Ala' Samir Z.H.Annab (@luluannab) February 6, 2015
Some demonstrators expressed support for the government, which has stepped up its air campaign against the jihadist group.
Others, such as former MP Ouda Qawwas, wished to dissociate the violence from religion.
"It's very important as a Christian living with Muslim brothers here in Jordan just to announce and to emphasise that what's happening with the name of any religion – not only Islam – is not the actual thing we believe in," he declared.
Jordan responded to ISIL propaganda films with its own video, showing the air force writing slogans on bombs which are then thought to have been dropped on sites occupied by the militants.
One airman quoted a verse from the Qu'ran. It read:
"Don't think God is not aware of what the oppressors are doing."