Internally displaced Ukrainians seek sanctuary in Kyiv
Comments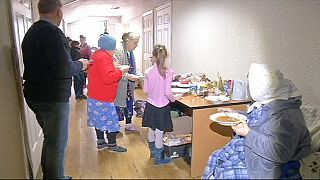 As the conflict in Eastern Ukraine intensifies people continue to flee the fighting.
For those arriving in Kyiv a number of temporary evacuation centres have been set up to cater for the needs of the internally displaced.
The centres are run entirely by volunteers.
One young boy describes how his family escaped the violence:" We were trying to drive by a tank and Dad slowed down, then a shell exploded in front of us and the shrapnel flew over the car , we survived and carried on. Then we really had to go fast because shells were exploding all around us."
It is not just young people who are caught up in the violence a mother describes her relief at reaching Kyiv: "They provide us with shelter and we are very grateful because otherwise we would have died. We are unable to go home, there is lots of shooting and military action. It calmed down for a while and then it all began again. We can at least eat here, we have food,"
In the last ten days the Ukrainian government has evacuated around 5,000 people from the war zone
Our correspondent in Kyiv is Dmytro Polonsky:: "Now, the children who fled the Dombass region to Kyiv can relax and study normally, because missiles don't fly past the windows and they can sleep in comfortable warm beds," he said.