France remembers the Charlie Hebdo killings one month after the attacks
Comments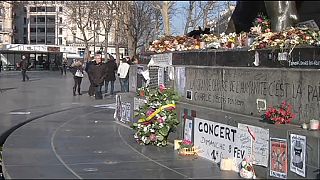 France has been remembering her dead. On Saturday (February 9), one month after the attacks which killed 17 people, fresh flowers and messages surrounded the offices of the satirical newspaper Charlie Hebdo.
The series of attacks by three gunmen which prompted a national outpouring of grief had started outside the paper's headquarters. One month on many believed it was important not to forget what happened.
"Today is a day to reflect, think of those people who died for a stupid thing. A drawing has never harmed anyone," said one lady.
A group of Italian students visited the scene with their teacher, Guilano Brusafero. He believed lessons could be learned there.
"We are here to pay tribute to the victims, but also to France, which has responded in an honourable and fascinating way. I teach philosophy and thought it was important for my students to reflect on these matters," he explained.
Millions had gathered to protest at the Place de la Republique in the French capital after the killings. It remains a magnet for visitors from all over the world. Alvaro Cabada from Spain was there.
"People in France must have been really affected by everything that happened one month ago, especially since France is such a tolerant and open country with so many cultures and religions. What happened must have had a great impact on people," he said.
The French Assembly paused to pay homage to the victims, too, while a selection of covers from past issues of Charlie Hebdo were displayed in one of the corridors of the parliament.