Yemen's Houthis assume power and dissolve parliament
Comments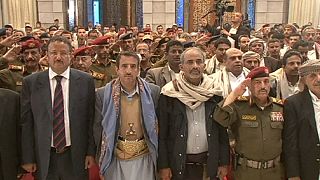 The United Nations and the United States have condemned Yemen's dominant Houthi group for dissolving parliament.
The move was also denounced by the country's main political faction as a coup.
Houthi rebel leaders, however, say a new interim assembly and government will be formed as swiftly as possible.
Gamal Al-Soudi, the Houthi movement's spokesman said: "The new transitional council will comprise 551 members and replace the now-dissolved house of representatives. The office of the president will also be replaced in this transitional phase by a presidential council, which will be composed of five members, who will be elected by the national council."
Hundreds of protesters took the streets in the Yemeni city of Taiz to reject the Houthi takeover. Other main political forces say they are studying the latest developments and will meet on Saturday to declare their positions.
Yemen has been in political limbo since President Abd-Rabbu Mansour Hadi and the government of Prime Minister Khaled Bahah quit last month.
It came after the Houthis seized the presidential palace and confined the head of state to his residence. The Houthis had set a Wednesday deadline for political factions to agree a way out of the crisis, otherwise the group said it would impose its own solutions.