Queen Rania of Jordan joins protesters on the streets of Amman
Comments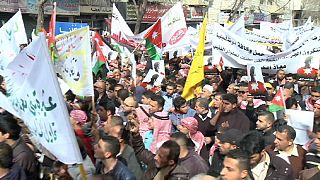 Thousands of protesters took to the streets in the capital of Jordan to show support for their government's fight against ISIL militants.
"Yes to punishment. Yes to the eradication to terrorism," reportedly read some of the placards carried by demonstrators through the city of Amman.
Queen Rania joined the thousands after Friday prayers in a show of solidarity.
"We will take revenge for the killing of our pilot. The Arab Jordanian army and security forces are able to respond to ISIL in their homes," one protester told euronews.
Another said: "This is a day to defend humanity against this crime which is practiced by the criminal organisation. Can you imagine burning a man in this way? Do you burn an animal, or birds? Our religion forbids this and our humanity denies it. Where are human rights? Where are the international organisations on this, where are the three main religions on this?"
"We will respond to ISIL very strongly, our young men and all of us under the King's orders to move are ready to fight. We will sacrifice for Moaz and the King," proclaimed a third.
The march came on the back of the air strikes on Thursday. Unconfirmed reports claimed Jordan had carried out fresh air strikes on Friday.
Euronews correspondent, Mohammed Shaikhibrahim at the demonstration in Amman said: "Today Jordan became one more country involved in the confrontation with the terrorist organisation, "Daash" – or ISIL and this demonstration, which includes all the tribes of Jordan and all the various political parties serves to confirm that."