Double engine failure caused TransAsia crash
Comments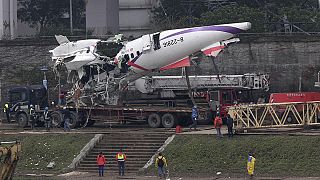 Data from the flight recorders of the doomed TransAsia Airways plane that came down in Taipei's Keelung River has revealed that both engines failed before the crash.
The turboprop ATR 72-600 en route from Taipei's Songshan Airport to the Kinmen islands had no power for the last minute and seven seconds of the fateful flight.
Divers searching the fractured fuselage found the pilot still clutching the controls.
Captain Liao and his co-pilot are being hailed as heroes as they guided the ailing aircraft through skyscrapers, apartment blocks and commercial buildings.
Authorities say without their actions the loss of life could have been far worse.
Thirty five people died in the crash eight passengers are still missing.