Debaltseve shelling rages as Ukraine rebels intensify assault
Comments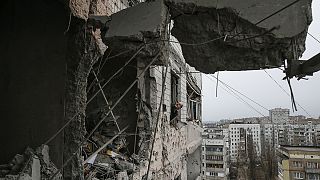 Fighting between Ukrainian soldiers and Russian-backed separatists is continuing to rage in and around Donetsk.
Government troops are holding despite strong pressure from the rebels with thousands of civilians caught in the crossfire.
"All of a sudden there was an explosion. I didn't even understand what happened. Seconds later another explosion," said one woman.
The separatists have been almost relentless with their attacks on Debaltseve, a key rail hub northeast of Donetsk.
NATO says Russia has sent weapons, funds and troops to assist the rebel advance but Moscow denies involvement in fighting for the territory the Kremlin now allegedly calls "New Russia".
It is unclear how many people have died or been injured in this assault. Kyiv says five soldiers have been killed and dozens more hurt in the past 24 hours.
More than 5,000 people have been killed so far during the nine-month old conflict. The death toll and casualty list appear set to rise since violence has surged following the collapse of the latest peace efforts.