Sports United: France win record fifth world handball title
Comments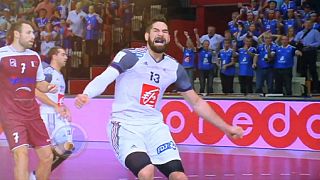 Hello and welcome to Sports United a weekly show that brings you a wide range of sports news and features from around the planet.
The 24th edition of the World Men's Handball Championship took place in Qatar.
The hosts thrilled their home support and stunned everybody else when they reached the final.
But in the showpiece match they met France who have dominated the sport of late and had the record books firmly in their sights.
It was the sport's heavyweights against a nation looking to confirm their status as one of the new handball powers.
Having impressed throughout their own tournament the final proved one match too many for Qatar.
With that said the hosts were no push over in front of their home support and maintained a certain level of threat throughout the second half.
But with on-fire goalkeeper Thierry Omeyer owning his goal line and Nikola Karabatic spearheading a devastating French attack – there was only going to be one outcome.
France eventually won 25-22 for a record fifth World title.
Les Blues are now reigning World, European and Olympic champions.
Truly Asia
For the first time in its history the Asian Cup was staged outside of Asia.
The 16th edition was hosted by Australia who, after losing the 2011 final to Japan, had another crack at the title.
Standing in their way was a South Korea side desperate to end their nation's 55-year-title drought.
It was the Socceroos against the Taegeuk Warriors.
Add a 70 thousand capacity crowd in Sydney and the party was ready to go.
But it took almost 45 minutes before the first wave of celebrations.
Swindon Town midfielder Massimo Luongo testing out his long range abilities to stunning effect putting the hosts ahead.
Korea's standout player Son Hyeung-min leveled matters deep into second half injury time to deny Australia victory in regulation time.
But the hosts kept their focus and 15 minutes into extra time substitute James Troisi sealed the win for Australia who celebrated their first Asian Cup title, nine years after joining the Asian Football Confederation.
Miami sailing
It's been dubbed a mini-Olympics for sailors.
The ISAF Sailing World Cup series features five stops around the world plus the grand finale in Abu Dhabi.
The second and most recent took place on the waters of Biscayne Bay in Miami.
The women's 470 was one of ten Olympic classes in action.
New Zealand's Olympic champions Jo Aleh and Polly Powrie produced a stunning sail throughout the six-day regatta and had already secured gold before the final race where they finished fourth.
The Men's finn class had also been settled before Monday's medal race day.
Britain's Giles Scott extended his winning streak to 18 months and did so with a race day spare.
The competitors will now set sail for Hyeres in France for the third stop.
Winter Universiade
The Universiade is the primary global multi-sport event for university athletes.
Organised by the International University Sports Federation it has a summer and winter event.
This year's Winter Universiade is firmly in our spotlight.
Over 1500 competitors will take part in 11 sports and 68 disciplines.
The event is divided into two parts – the first in Slovakia and the second in Spain.
The Slovakian part of this year's edition has already come to an end at Strbske Pleso and Osrblie.
Russian students have soared to the top of the early the medals table following three gold in the Ski Jumping.
They added four more in the Biathlon while seven of the possible nine gold medals in the cross country skiing also went their way.
Poland meanwhile took two gold from the Nordic Combined.
From their Slovakian visit Russia amassed a tally topping 39 medals, 14 gold, with closest challengers Kazakhstan and Poland on seven medals.
The Granada section in Spain has now begun and features seven sports – among them Alpine skiing, curling and ice hockey.
The unsung heroes
If you've ever wondered who that small person is sitting in the front or back of a competitive rowing boat with no oars but screaming out orders to the crew – wonder no more.
It's the coxswain or cox and on Inside sport this week uncover the contributions made by these unsung heroes. (see video above).
Farewell Cadel
Anxiety, anger, joy and disappointment are just a few emotions that sport evokes for athletes and fans alike.
We wrap up this edition with images that capture just that – emotion. And there was plenty going around when Australian former Tour de France winner Cadel Evans recently retired. (see video).