Russian woman, 81, dies after being arrested for stealing butter
Comments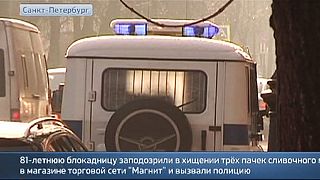 There is controversy in Russia after an 81-year-old woman died while being detained on suspicion of stealing butter from a shop.
Media reports in Russia say the pensioner was arrested after being accused of taking three packets of butter without paying.
And latest reports say prosecutors have now decided that the allegation was without substance.
Some reports say there was confusion, and the pensioner had in fact been intending to pay.
The incident is reported to have happened on the outskirts of St. Petersburg.
The woman died in a police station from what is thought to have been heart failure.
Many people are now facing severe hardship in Russia with rising prices and low wages.
The country is suffering from the fall in oil prices and sanctions imposed by the West over the Ukraine crisis.
Russian media report that prices at supermarkets have risen by 12 per cent over the past year.
Inflation is also rising with the devaluation of the ruble.
Russian media say the average monthly pension is now just the equivalent of 175 euros.
#Russian Pensioner Who Died in Police Custody Possibly Wrongly Accused of Stealing Butter http://t.co/H60RMCQ033#news

— The Moscow Times (@MoscowTimes) February 5, 2015