Promise of revenge as Jordanian king visits family of murdered pilot
Comments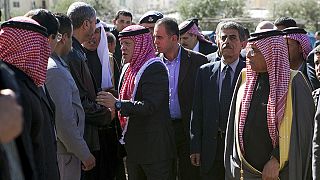 There have been emotional scenes in Jordan as King Abdullah II comforts the family of the captured pilot murdered by ISIL militants.
But the sadness has also turned to anger, with promises of what the king describes as a "harsh" response.
Ehab Al-Kaseasbeh, a pilot of the cousin, told euronews: "It's here that we had Mouath's wedding, and now it's where we're grieving for him. But in fact it's more than mourning, it's like a ceremony of honour for Mouath, a martyr who is now with God."
Jordanian parliamentarian, Mazen Al-Dalaeen, said: "We ask the international community to increase the military offensive against this terrorist organisation, which is not related to Islam, this brutal organisation, killing innocent people."
There was shock around the world after ISIL militants in Syria released a video of the pilot being burned alive in a cage.
Jordan has already started sending more fighter jets to bomb ISIL positions.
Our correspondent in Jordan, Mohammed Shaikhibrahim, reported: "Solidarity for the family of the pilot is coming not only from inside Jordan, but also the Arab world and the wider international community. He has become a hero and a symbol for his country in the current war against ISIL. People here say the crime will lead to a quicker demise of this terrorist organisation."