Chad forces mass on Nigeria border as France boosts fight against Boko Haram
Comments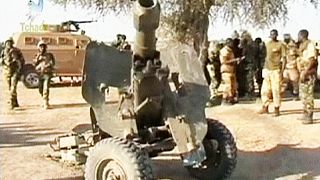 France has sent military advisers to Niger's southern border with Nigeria in an effort to boost the campaign by regional powers against the Islamist militant group Boko Haram.
It comes after two days of bloody battles between government forces and the militia.
On Wednesday, Boko Haram killed up to 100 people in a masscre in the north Cameroon town of Fotokol.
This was in response to Chad troops launching an offensive on their bases in Gambaru and Ngala in northern Nigeria on Tuesday. Chad sources say at least 200 militants were killed in the assault.
Niger will decide on Monday whether to send troops to stop the spread of Boko Haram, who are also threatening Cameroon and Chad in increasingly violent cross-border raids.
Regional powers have been drawn into the battle as Nigeria has struggled to cope with the six year insurgency which has claimed thousands of lives and displaced millions.