Netanyahu's 'Bibi-sitter' joins odd election video gallery
Comments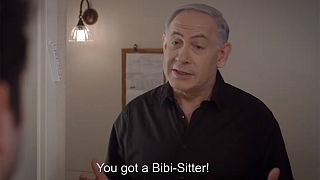 Benjamin Netanyahu's hardline image is challenged by his own Likud party in an Israeli election campaign video in which the prime minister plays a baby-sitter… or rather, a "Bibi-sitter", after his nickname.
The advert's message is that only Netanyahu – and not his rivals – can be trusted to look after the country's children.
The cuddly, popcorn-eating, grandpa-like Netanyahu still manages to make a political point in the short film.
"Shalom" (peace), say the parents as they return from their night out. "Not unconditionally," he replies.
Here are some other examples of the sometimes very strange world of election campaign ads.
USA
"I'm not a witch." Christine O'Donnell's opening words in a video for a 2010 campaign which saw the Tea Party activist win the Republican nomination for the Delaware Senate seat vacated by Joe Biden. But the video made her something of a laughing stock across the country and she was forever associated with her witch denial. She lost the state senate election with 40 percent of the vote to her rival's 57 percent.
Mike Gravel, then a US Democratic Senator, was a candidate in the 2008 presidential election. If you want the leader of the free world to be good at staring into a camera before throwing a rock into a lake, vote for Mike. People didn't and some guy called Obama won the Democratic primary, although Gravel did make the final three. In March 2008 he announced he was joining the Libertarian Party.
This is actually an ad supporting Amendment 4, an environmental initiative in Florida. Bears and other assorted creatures sing their support, although it could be an ad warning of the dangers of hallucinogenic drugs. Its hypnotic qualities helped Amendment 4 pass with 68% of the vote.
FRANCE
Talking of animals, in France "Mouvement Ecologiste Indépendent" candidate Antoine Waechter was interviewed by a beaver for his 1997 legislative election campaign. Waechter formed the MEI after splitting from the Green Party but despite his efforts in the field of electoral campaign videos, he has never collected enough signatures to run for any office on a national level.
Jean Pichai, running for 2014 municipal elections in Pau, sits staring into the camera as a woman describes his qualities in a voice-over. Spooky. Although the video caused something of a local internet buzz, Pichai withdrew from the race with opinion polls giving him less than 1% support among voters.
POLAND
Vote for Lucasz Wabnic in Poland because not only does he beat up rapists, he even turns down the would-be victim's offer of sex. What a guy. This video was nominated for an award for 'Worst Political Video' in the country although, incredibly, he didn't win! Wabnic, 12th on the SLD list for the general election in 2011, also failed to win a seat in parliament.
AUSTRALIA
WikiLeaks founder Julian Assange failed dismally in his bid for election to the Australian Senate in 2013, despite a flamboyant video appearance in which – armed with a platinum mullet haircut – he adapts John Farnham's 1986 hit "You're the Voice".
In the video created by Juice Rap News, Assange – then as now holed up in the Ecuadorian embassy in London to avoid extradition to Sweden – sings: "We have the chance to turn the pages over. We can write what we want to write. We gotta make things leak so we can get much bolder… We're all wiretapped now. We're all being fed lies." Read more
PERU
In Peru, this clip – a poor man's Macarena – helped Salvador Heresi win nearly 6% of the vote in the 2014 Lima mayoral election.
DENMARK
Voteman. So mean he'll even scare you into voting at the European elections. Man, woman or child, he will hunt you down. The public called his bluff however. Turnout at the 2014 Euro elections was the lowest ever, although the figure in Denmark was 13% higher than the EU average.