Wintry weather hits US northwest for a second time in less than a week
Comments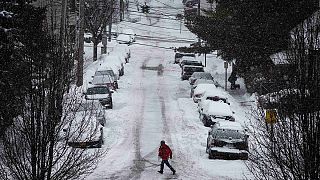 Wintry weather has left several states in the north east of the United States under a blanket of deep snow yet again following a similar storm less than a week ago.
Plowing crews are struggling to cope in Maine where nearly a metre of snow fell last week.
Freezing rain and gusting winds were blamed for at least four deaths including one woman in the Chicago area who was hit by snowplow.
Air, rail and roads have all been disrupted along with Boston's victory parade for the New England Patriots who won Sunday's National football league championship game on Sunday.
Snow and ice in new York City also caused a crowded subway train to stall on an elevated stretch of track.
The National Weather Service (NWS) has warned of dangerous wind chills during the coming days.