"Pimping" trial of former IMF head Strauss-Kahn begins in France
Comments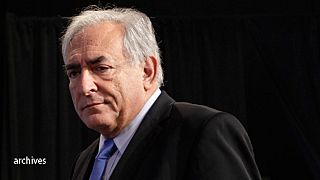 The trial has begun in France of the former head of the International Monetary Fund.
Dominique Strauss-Kahn, known in the media as DSK, is charged with "pimping with aggravating circumstances".
The 65-year-old denies claims that he knew that he was dealing with prostitutes at sex parties he attended in Paris, Lille and Washington.
The court has refused a request by the prosecution for the trial to be held behind closed doors.
The prosecutor had argued that it was necessary to protect the identity of the prostitutes who are due to give evidence.
DSK is standing trial along with 13 others. They face the possibility of prison terms of up to 10 years or fines of up to 1.5 million euros.
Another accused, Dominique Alderweireld, told reporters outside the court in Lille: "We are going to have lots of fun. There is no doubt that this will be a very good show."
A journalist asked him if he was the main figure.
"No, no, no, it's DSK," he replied. "It's true that he tarnishes my reputation but it's not me the main figure."
DSK settled a civil case in the US after charges of sexually assaulting a chambermaid in a New York hotel in 2011 were dropped.
The current trial is expected to last three weeks.
INFOGRAPHIE. #DSK, Dodo la Saumure… Les protagonistes de l'affaire du #Carlton de Lille http://t.co/EN9fQ3hhzbpic.twitter.com/0o8ap6Fzsw

— L'Express (@LEXPRESS) February 2, 2015
France Aflutter as DSK's 'Aggravated Pimping' Trial Opens http://t.co/RhsHfGTnpxpic.twitter.com/MdsuCGip5P

— Newser (@Newser) February 2, 2015
A preview of the courtroom with stone bench, ahead of DSK 'pimping' trial afp</a> <a href="http://t.co/CaQ1zWurW8">pic.twitter.com/CaQ1zWurW8</a></p>&mdash; Fran Blandy (franblandy) February 2, 2015