Strauss Kahn, from playground to judgement
Comments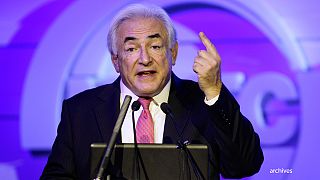 He could have been a contender for President of France.
Instead, Dominique Strauss Kahn became a familiar face in court, in the notorious 'Carlton Affair'.
The ex-cabinet minister and former head of the IMF in theory risks a stiff sentence as a 'pimp'.
Formally the dominant charge is "procuring with aggravating circumstances".
It is called the 'Carlton Affair' after a hotel in the northern French city of Lille at the centre of an alleged sex services network.
Strauss Kahn was charged in March 2012. The Carlton trial gets under way today, 2nd February, 2015.
Richard Malka, on his defence team, said: "With the greatest firmness, he denies being guilty. In particular, he was never remotely conscious that some of the women met could be prostitutes."
Investigators said the man dubbed the 'party king' by French media knew the women at gatherings he organised at his apartment were professionals.
Carlton management, local business figures and police were also caught in the glare.
As if the magistrates' case needed more fuel, investigative journalists found some. According to them, the highest national authorities — President Nicolas Sarkozy most notably — knew about the pivotal defendant's alleged orgies through illegal phone-tapping.
The journalists' pet question is, 'what for?'
At the time, DSK (as he is also known) was at the crest of his career, head of the International Monetary Fund and poised to become the main opposition Socialists' candidate for the imminent presidential elections.
Public opinion pollsters tipped him to beat Sarkozy — the only man thought capable. And then, out of that dazzling political sky came a thunderbolt.
New York City, May 16th, 2011: France's would-be presidential poster boy was dragged across television screens for the whole world to see, in handcuffs, to be formally indicted for the rape of a maid at the Sofitel Hotel.
He was held at Rikers Island.
Potentially incriminating DNA evidence notwithstanding, the alleged victim's credibility was damaged and all charges were dropped.
DSK had by then been portrayed in an unfavourable light, and he was greeted as he returned to Paris, with shouts of 'disgusting!'
His political career appeared irreparable.
Strauss-Kahn and his celebrity journalist wife divorced.
He has a new partner (a communications manager) and is now a private-sector consultant.