London Night Tube will lose £19.6m in first year, say unions
Comments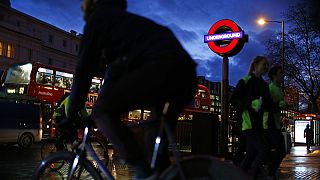 It's not yet up and running but London's 24-hour night tube is already proving controversial with trade unions.
They say plans to have the underground service running overnight on the weekends won't break even until 2033 and it will be passengers who will pay out of their own pocket.
However, having a night time tube service has won support from many Londoners.
"It was an excellent idea," said one local. "I don't stay out quite as late as I used to when I was younger. But it's an excellent idea to get people around town, so people aren't left on the streets late at night."
"If it weren't too much, I wouldn't be too bothered. If it helps that we get a 24-hour service or night service yeah, I wouldn't mind," explained another local resident.
Ticket offices are being replaced by machines as part of the plans to modernise the network. Calling it Mayor Boris Johnson's 'biggest vanity project to date', unions say the figures don't add up.
"First of all, they are going to make a 20-million-pound loss in the first year – this has to be funded somehow, and our concern is that it will be funded by cutting other services, and indeed our members' staff working for London Transport," explained Luke Chester, London officer, from the Transport Salaried Staffs' Association.
The London Underground says that costs are being finalised and that the service will pay for itself, adding it will be worth millions to the nocturnal economy.
Night owls will find out for themselves when the service opens on September 12.