7,500 African Union troops to fight Boko Haram
Comments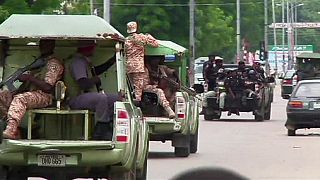 African Union forces from Chad have attacked Boko Haram killing 120 of its militants in the far north of Cameron.
The Islamist militant group had recently launched a cross-border advance from its stronghold in Nigeria into neighbouring Cameron and Chad.
Nigeria and its four neighboring countries Benin, Cameroon, Chad and Niger have committed 7,500 troops to a multinational force to fight the militants.
The UN secretary general Ban Ki-moon offered his support for the African Union's task force to address the threat from the Islamist group.
"Like al-Qaeda, Boko Haram and ISIS all these terrorists, they have committed unspeakable brutality against humanity. Not a single country, even the regional countries cannot handle this alone," Ban said.
Boko Haram has killed thousands in its struggle to create an Islamic state in northern Nigeria.