UN calls on Pakistan to protect religious minorities after mosque terror attack
Comments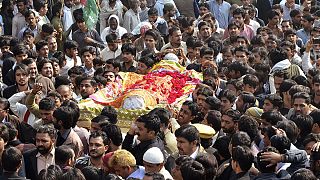 UN Secretary General Ban Ki-moon has called on Pakistan to step up efforts to protect religious minorities and combat terrorism.
He condemned the bombing of a Shi'ite mosque in Pakistan's city of Shikarpur which killed at least 61 people gathered for Friday prayers.
Parts of the mosque collapsed following the blast burying some of the injured under rubble.
A mass funeral has taken place for victims of the attack.
Pakistan, which has a Sunni majority, has a long history of attacks against its Shi'ite minority.
People from Shi'ite communities across the country have held protests calling on the Pakistani army to step up their fight against violence from extremists.
The bloodshed has raised fears that extremists could be gaining a foothold in the region.