French ceremonies in honour of victims of fighter jet crash
Comments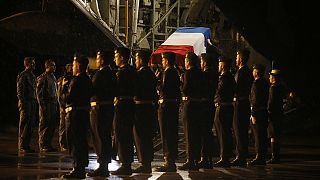 Ceremonies are being held in Paris in honour of the nine French nationals killed when a Greek fighter jet crashed in Spain.
The bodies of the victims were returned to France on Thursday.
The two Greek pilots of the F-16 jet were also killed.
Investigators say the crash was due to a technical problem during takeoff and the crew had attempted to eject.
The nine French personnel killed were on the ground.
More than 20 other French and Italian air force officers were injured and several remain in a critical condition.
The exact nature of the technical problem has not been disclosed and officials say a full inquiry is continuing.
The accident happened during a NATO exercise at the Los Llanos military base in Albacete.
The crash on Monday was described as the worst loss of life during a NATO exercise in living memory.
Witnesses say the jet lost power and then crashed into half a dozen other jets on the ground, resulting in raging fires.
Tragic crash of #Greek fighter jet at base in #Spain affects whole #NATO family http://t.co/chXk8cFL95

—

NATO

(@NATO) January 26, 2015
Death toll rises in Spain NATO fighter jet crash http://t.co/ZknmSTlLdq

— euronews (@euronews) January 27, 2015