Canadian duo ascend Niagara Falls
Comments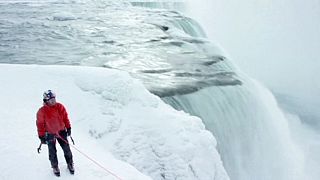 Canadian ice climbers Will Gadd and Sarah Hueniken became the first two people to ever ascend the Niagara Falls on Wednesday.
The pair followed a route along the edge of Horseshoe Falls – a section completely covered in frozen ice.
Horseshoe Falls is the largest of Niagara's three major sections and is considered the most powerful waterfall in the world.