From Rallying and Cyclo-cross to Bobsleigh and Archery, Sports United kicks off in style
Comments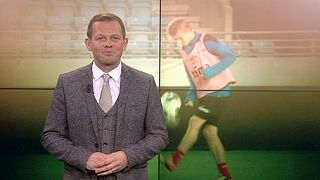 Hello and a very warm welcome to Sports United, a brand new weekly show here on euronews.
With the help of all our friends from the federations we will bring you a wide range of sports stories from around the globe.
Every week we'll also shine a spotlight on a sporting personality or event and give you a unique insight into the skills and equipment needed to compete at the highest level.
The season-opener
It is off and running. The World Rally Championship began it's 2015 season with the traditional glitzy opener in Monte Carlo.
The event that first roared onto the racing scene in 1911 has been dominated by French drivers for over a decade.
The 83rd edition wasn't any different.
Champagne again for France's Sebastien Ogier who has hung on to his Monte Carlo rally crown after a ding-dong battle with the rest of the field, and above all the ten-times winner over this course, Sebastien Loeb, making a one-off comeback after 15 months off the road.
Despite the nine-times world champion's best efforts in his Citroen DS3, Ogier was not to be denied, leading Volkswagen to a one-two-three finish, and beating his teammate Jari-Matti Latvala by 58 seconds.
Loeb's challenge collapsed along with his suspension after hitting a rock, leaving the field open for the Volkswagens to dominate over a difficult four days on roads that varied from dry to slippery with snow patches that spelled disaster for the unwary, often kicked onto the roads by spectators crammed onto the hillsides.
Latvala showed he will maintain Finland's fine rallying tradition with a solid second place, more than two minutes ahead of third-placed Norwegian driver Andreas Mikkelsen.
This was Ogier's third Monte Carlo title, and he is bidding for his third world championship crown this year.
Britons Elfyn Evans and Kris Meeke finished 7th and 10th respectively.
Down and dirty
It's a sport that has seen a sharp rise in popularity.
To compete you need high levels of endurance, fantastic bike handling skills and you can't be afraid of getting down and dirty.
The sport is Cyclo-Cross and the World Cup series culminated with the season finale in Hoogerheide.
After five stops on the tour it all came down to the sixth and final leg in the Netherlands to decide the overall Cyclo-cross World Cup champions.
Kevin Pauwels of Belgium got a bit stuck in the mud on the final day but he was quickly off and riding towards the single point he needed to win the overall title.
Pauwels was unable to catch high flying Dutchman Mathieu van der Poel who went on to win the last stage of the series.
But it didn't matter as his a fourth-place finish was enough secure the elite men's title.
Similar scenes unfolded in the women's race.
Pauwels' compatriot Sanne Cant had won two of the previous five stops and was heading towards the overall title.
Track side barriers briefly halted her efforts though as she tumbled head over heels following a collision.
The crash looked more serious than it was and she managed to pick herself up and take fourth place – good enough for the title.
As Cant took overall honours the final stage of the season went to a delighted Eva Lechner of Italy.
Taking aim at Nimes
This season's Indoor Archery World Cup began in November of last year in Marrakesh while stage two took the competitors to Bankok.
Last weekend the Archers flexed their bows at the third and penultimate stop at Nimes in France.
A test of skill, composure and above all accuracy but battling against your opponent and the clock – the pressure is always on.
Spotlight
He's been the talk of the football town.
Many have dubbed him as 'the new Lionel Messi' and others 'the talent of the decade' and he's only 16.
For our first edition of Sports United we shine our spotlight on highly-rated starlet and mini Galactico Martin Odegaard.
He's got ball skills, dynamic play-making qualities and a maturity that belie his age.
Last year at 15-years-old he became the youngest player in history to feature in the European Championship, playing for Norway.
Ever since Martin Odegaard has been courted by all the top clubs of Europe and only recently signed a dream deal to don the Real Madrid colours.
Cool as a cucumber the now 16-year old dealt with the press like a veteran telling them: "No, I don't really feel the pressure. But it is quite different to play for Real Madrid than Stromsgodset my former club. It is a dream and I want to take the most out of it."
Odegaard chose the European champions over Bayern Munich, Barcelona, Manchester United and his favourite side Liverpool.
He'll begin his Real Madrid career playing for the reserve team.
However if all the hype is to be believed – and there's no reason why it shouldn't – a rise to the Galaticos ranks will be fast in coming.
The young Norwegian sensation is now set for an adventure of a life time.
He won't be alone either as father, Hans Erik, will be joining him on the flight to the Spanish capital after accepting a job at Real's youth academy.
Inside sport
Gravity, a good pilot and nerves of steel play key roles in helping Bobsleigh teams reach staggering speeds down the icy tracks.
But the standing start can be just as important and for that you need explosive power and some very sharp shoes.
Canada's Olympic bobsledder Jesse Lumsden explained: ''These are bobseligh spikes, it consists of 350, 1/16 of an inch little spikes.
''(They are) Very intimidating, very sharp and very grippy.
''There are three gaps in between these three plates of spikes that kind of act like a snow tyre. It prevents the build up of snow and allows us to keep running further without slipping and falling on our faces.
''Our bob spikes are the push athletes' most important piece of equipment.
''It allows us to transfer our power into the ice and then into the sled to get the velocity that we need to get our pilots the start they need to help us win the race.
''That being said, when you are wearing these spikes it does not make the load that safe.
''Loading into a very small four man (sled) with men over 200 kilos/220 pounds and a slip foot can equal a very messy calf or a very messy hamstring.
''The damage that these spikes can do will leave marks that will last a lifetime.''
Agenda
Next Week on Sports United, we head to Qatar for the World Men's Handball championship final. We discover who will replace Japan as champions of Asia and we set a course for Miami and the Sailing World Cup.
Emotion
We wrap up our first edition with the thrills and spills of matchday four of the Water Polo Champions League. (see clip above)