Argentine special prosecutor Nisman 'didn't trust his security staff'
Comments
By
Euronews
with
Reuters, Associated Press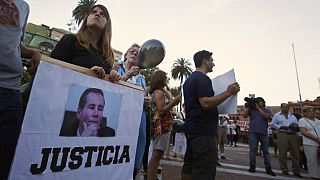 Hundreds of people have turned out for the funeral of Argentine special prosecutor Alberto Nisman, who died in mysterious circumstances earlier this month.
The 51-year-old was found dead hours before he was due to detail allegations the president covered up Iranian involvement in the bombing of a Jewish centre in 1994.
The prosecutor's employee, Diego Lagomarsino, is the only person to be charged with any offence so far in the case. He lent Nisman the gun which killed him.
In a news conference Lagomarsino revealed Nisman told him he did not trust his own security staff and feared for his daughters' safety.
"I asked him why he wanted it, and he told me 'I'm worried about the girls'" "I said: 'but Alberto, you have security'. He told me "I don't even trust the bodyguards".
"At that moment he broke down and said to me, 'Do you know what it feels like to have daughters who don't want to be around you because they're scared something will happen to them?'"
On Monday, Argentina's President Cristina Fernandez, who believes Nisman was killed as part of a plot to smear her name, announced plans to disband the country's intelligence service.
Post-mortem results suggests the father-of-two killed himself but investigators are yet to establish if he committed suicide or was murdered.
Iran has repeatedly denied any link to the bomb attack but Tehran's claims of innocence have done nothing to stem the spread in Argentina of several conspiracy theories, many of which directly include Fernandez.