Former Olympic Champion Bubka to run for IAAF Presidency
Comments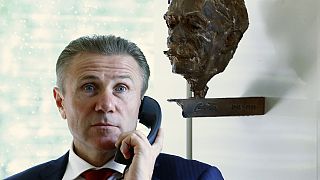 Vice President of the International Athletics Federation (IAAF) and former Olympic Champion Sergei Bubka announced his intention to run for the presidency of the IAAF Wednesday, a decision which has been expected by those in athletic circles for months.
Bubka dominated the pole vault event for more than a decade, winning an Olympic gold at the 1988 Seoul Games and taking six consecutive world championship titles.
"I am seeking the IAAF Presidency to give something back to the world of athletics which has given so many opportunities to me throughout my life," the former Olympic Champion said in a statement.
Since his retirement from athletics in 2001, the Ukrainian has had a successful career on the administrative side of the sport, becoming the head of his country's National Olympic Committee and then an Honourary Member of the International Olympic Committee, experience he hopes will help him govern the federation well.
"The IAAF I hope to govern will be a source of pride and inspiration to all who love our wonderful sport," he said. "An IAAF that provides hope, opportunity, innovation, excitement and individual approach to every member federation".
He will be joined in the race for presidency by former Olympic Champion in the 1500 metres, Sebastian Coe, who announced his bid late last year to replace the current President Lamine Diack, who has served since 1999. Diack will step down from his post in August.
Article by Hugo Lowell