Tsipras' anti-austerity government sworn in
Comments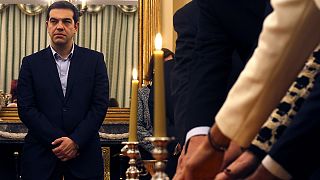 Not long after they were named, Alexis Tsipras' anti-austerity cabinet has been sworn in at a ceremony in Athens.
Described by some as unnatural coalition partners, the right-wing Independent Greeks were sworn in with a religious ceremony. Their leader Panos Kammenos will take over the Defence Ministry.
The all important Finance Ministry will be headed by Professor Yanis Varoufakis, a hardliner who described austerity programmes as 'fiscal waterboarding'. He took a civil oath along with most of the SYRIZA cabinet members.
He has the tough task of renegotiating the 240 billion euros bailout deal and make a dent in the country's 320 billion euro debt. As he entered the presidential palace wearing a leather jacket, he told reporters that negotiations had already begun with their international creditors but not the Troika (the EU, IMF and ECB).
Very few women made it into the cabinet, but some got deputy posts such as Nantia Valavani who will work alongside Varoufakis at the Finance Ministry.
The first task facing the new government is electing a new president. It was the failure of the previous government to find a suitable candidate to replace Karolos Papoulias that led to parliament being dissolved and snap elections being called. Tsipras' government will begin the new presidential vote on February 5th. His apparent choice is former prime minister Kostas Karamanlis.
The composition of the cabinet appears sends a strong message to its international creditors that it will fight the bailout conditions, but its not yet clear whether it will lead to a standoff or a breakthrough.