Rally marks four months since 43 Mexico students went missing
Comments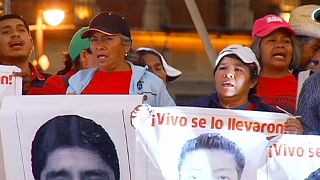 With 43 students still missing in Mexico, a rally has been held in the capital exactly four months after they vanished to demand more be done to find them.
Many protesters in Mexico City voiced anger at the government, unconvinced by its claim that the students were abducted by corrupt police and handed over to a drug gang who killed them and incinerated their bodies.
An Austrian lab has been unable to match remains found in a dump with the DNA of the trainee teachers.So far, experts have identified the remains of just one of the group.
The 43 students went missing on September. 26 in Iguala, a city in the poor southwestern state of Guerrero.
The brazen attack sent shockwaves through Mexico, where more than 100,000 people have died in drug-related violence since 2007.