Auschwitz survivors 70 years on plead for 'our children's future'
Comments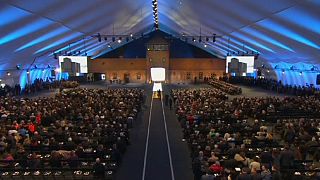 At the Gate of Death, survivors of Auschwitz-Birkenau have marked 70 years since their liberation from the Nazi German extermination camp in Poland.
A towering marquee sheltered them and dignitaries from dozens of countries at the very point where the trains of Hitler's Third Reich arrived.
More than 1.3 million people were killed in Auschwitz-Birkenau, most of them Jews, in the largest known mass murder in history.
Survivor Halina Birenbaum, Polish, described the despair of her two years in camps.
Birenbaum recalled the sight of the prisoners: "Nothing reminds you of anything remotely human. You cannot be anywhere else in the world. You are here to die, trampled in the mud, covered with blood and excrement. I was trapped in Auschwitz, an alien to myself. It was hell."
Kasimierz Albin was one of the few who escaped, in the Polish resistance before and after.
Albin spoke about fighting: "From the first day, the struggle for survival never stopped. It was a struggle to snatch from death the maximum number of beings and to preserve human dignity. Merciful fate allowed me to stand here before the monument to the victims. Let us honour them."
Roman Kent, also Polish, implored the world to remember that 'hate is never right and love never wrong'.
Kent said: "The heartbreaking weeping of the children torn from their mothers' arms by the brutal action of the torturers will ring in my ears until I am laid to rest.We survivors share a common goal with the current generation: we survivors do not want our past to be our children's future!"
Another speaker said the indifference of many countries and anti-Semitism led to Auschwitz, in a grave warning that it must be stopped.
Many Poles, Soviet prisoners of war, Roma gypsies and others were also killed at the camp.
The ceremony included a short film produced by Steven Spielberg, entitled 'Auschwitz: Past is Present'.