Argentine President Fernandez plans to dissolve spy agency
Comments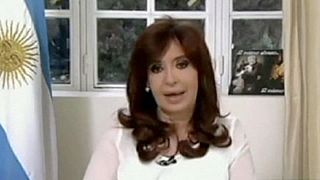 Argentina's President Cristina Fernandez plans to disband the country's intelligence agency amid speculation that rogue agents could have been behind the mysterious death of a state prosecutor.
In her first televised address since Alberto Nisman was found with a single bullet to the head, she said she would send Congress a bill creating a new security body that would be more transparent.
Nisman died just hours before he was due to appear in Congress over his claims that President Fernandez had conspired to derail his investigation into the bombing of a Jewish community centre in 1994.
Her government claims he was tricked into making those allegations and then killed when no longer of use to those leading the conspiracy.
People have taken to the streets to demand answers over the circumstances surrounding the prosecutor's death on January 18.
Opinion polls have shown few Argentines expect they will ever know how Nisman died.
He had accused Argentinian authorities of trying to protect Iran over its alleged role in the bombing that killed 85 people. Tehran denies any involvement.
The scandal around Nisman's death has created fresh turmoil in Argentina just 10 months ahead of a presidential election. Fernandez is constitutionally barred from seeking a third term.