A very academic cabinet, Tsipras government sworn-in
Comments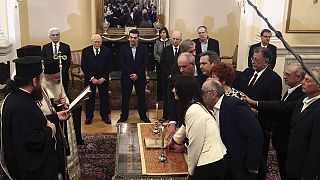 Alexis Tsipras' new government has been sworn in and is ready to work on its anti-austerity drive for Greece.
The new prime minister unveiled his 40-strong cabinet which includes unorthodox academics and human rights advocates sending a clear signal to international creditors that they mean business on battling the bailout.
The man already stealing the spotlight from Tsipras is the new Finance Minister. Yanis Varoufakis, a economic maverick told reporters that debt negotiations had already begun, only without the Troika.
"Bargaining is a big game and we are about to begin negotiating with our partners, and deliberating actually," said Varoufakis ahead of the swearing in ceremony. When asked how tough it would be to implement his theories, he answered, "The real challenge is to minimize the social cost that is unnecessary throughout Europe." He has likened austerity measures to 'fiscal waterboarding' which had turned Greece into a 'debt colony'.
Other posts went to academics. The Development portfolio went to George Stathakis a Professor in political economy at the University of Crete. Euclid Tsakalatos, who teaches at Athens University became deputy minister of international economic affairs.
The Independent Greeks, have secured one key post, with their leader Panos Kammenos heading the Defence Ministry. The appointment of ministers was delayed over the posts which would go to the right wing party. They make for strange bedfellows with the far left Syriza government and many analysts believe it could be a short lived coalition.
"We will not say yes to all of SYRIZA's policies, but only to those we have agreed upon," Kammenos told euronews. "We will support this government upon the issues that we have planned together".
The selection of hardline anti-austerity economists appears to be a deliberate act of provocation towards the Troika fearful they will backtrack on reforms, but will the cabinet be up to the job? Our correspondent in Athens, Stamatis Giannisis says, "Most members of the new Greek cabinet have minimal or no experience at all in government positions, but in those difficult times for the country they will immediately be called to meet the challenges of their assigned posts."