Ukraine rebels pursue offensive in worst fighting since September
Comments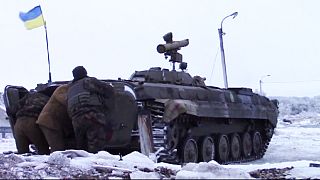 Pro-Russian rebels are pressing ahead with a new offensive amid the worst fighting in eastern Ukraine for months.
Small-scale skirmishes have regularly punctured September's ceasefire but separatists say they now have no choice but to advance.
Their main aim, they say, is to push back government forces that have been shelling rebel-held cities.
Russia's President Vladimir Putin claims a 'foreign NATO legion' has been fighting alongside Kyiv's troops.
NATO says that is "nonsense". It insists the foreign forces present are Russian – something Moscow denies.
In control of Donetsk and Luhansk, separatists may now have the Black Sea port of Mariupol in their sights. The largest city in the rebel-dominated provinces still in government hands, it is clearing up after Saturday's rocket attacks that killed 30 people. Kyiv and the separatists blame each other for the deaths.
Mariupol would be a tempting prize for the rebels.Capturing it would link Donetsk with the sea and Crimea, annexed by Russia last year.
Hundreds of miners in Donetsk spent hours trapped underground on Monday after shells damaged a power cable. They eventually made it safely to the surface – survivors of a conflict that has now claimed more than 5,000 lives