Second symbolic gesture and first official visit for Tsipras
Comments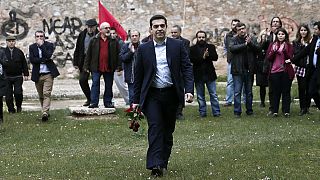 After choosing a non-religious swearing-in ceremony, Alexis Tsipras has made a second symbolic gesture.
On the eve of the 70th anniversary of the liberation of Auschwitz, the new Greek prime minister made his first official visit. He laid flowers at Kessariani memorial; a former shooting range, where resistance fighters were killed by Nazis during the Occupation.
"There is a lot of emotion here, we want to believe that Alexis and his team won't let us down," said one woman.
"This visit is a message to the democratic Germans, who are fighting off xenophobia and the neo-Nazis in their own country," another man added.
The move has been interpreted as a message for Berlin in the light of Tsipras' plans to haggle over the terms of the Greek bailout package – terms German Chancellor Angela Merkel has long warned are non-negotiable.