Merkel speech opens Auschwitz anniversary events
Comments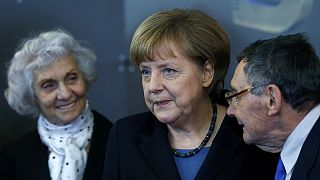 German Chancellor Angela Merkel addressed an audience gathered in Berlin for an event marking 70 years since the liberation of Auschwitz, the former Nazi concentration camp.
Merkel drew parallels between recent events in Europe.
"It's a shame when people in Germany are mobbed, threatened or attacked when they say they are Jewish or when they speak out for the State of Israel," said Merkel.
"Auschwitz concerns us all, today and tomorrow and not only on anniversaries," she added.
Auschwitz survivors Marian Turski from Warsaw and Eva Fahidi attended the opening event along with young people from Poland, Israel and Germany
Soviet soldiers liberated Auschwitz on January 27, 1945