European stockmarkets shrug off Syriza victory in Greece
Comments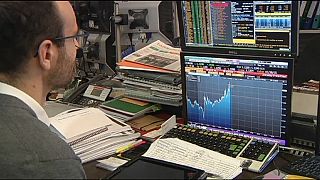 After an initial two-hour wobble on the European markets following the victory of Syriza in Greece, things calmed down going into the afternoon's trading with only London of the major markets showing a slight fall.
Volatility remains high, but the markets have set the left's victory in Athens against the ECB's vast reflationary effort, pumping over a trillion euros into Europe's banks between now and September next year, and deciding on the balance that there's no crisis…for now.
"The markets know exactly that the Greeks of course will receive help. They will not quit because it would threaten the very existence of the euro zone, and we all know about EU financial diplomacy. A dodgy kind of compromise will be found in Greece, with no overt haircut, but a stealth one," says Baader Bank's Robert Halver.
A stealth haircut maybe, but fortunately the ECB is on hand to compensate for the banks' losses and few will bet against them taking the ECB's cash with many thanks and hanging onto it rather than making more business loans available, the whole point of the exercise.
Stimulating growth in this way already has patchy success; add Greece to the equation and it may be impossible.