Venezuela: Protesters call for Maduro to go amid financial crisis
Comments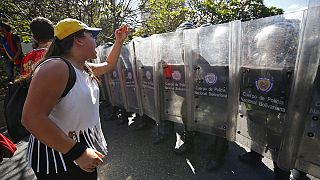 Thousands of anti-government protesters have been marching in Caracas, as anger boils over high inflation and a shortage of basic items.
With oil prices plummeting, the OPEC nation entered recession last year and the economy shrank in the first three quarters.
Venezuelan Maria Elena Gil said the country desperately need to change to overcome the crisis.
"We must show that we're not in agreement with the way his government is being led," she said.
Opposition leader Maria Corina Machado, a deposed lawmaker who President Nicolas Maduro accuses of wanting to topple him, told the crowd that the president needs to resign.
"In its constitution, Venezuela has mechanisms to achieve the solution to a political crisis of this magnitude. Maduro must step aside for Venezuela to be able to unite in a national reconstruction process," she said.
On Sunday, former president Felipe Calderon of Mexico, Sebastian Pinera of Chile and Andres Pastrana of Colombia will take part in a forum led by Machado.
Venezuela's socialist government blames political opponents, who protested in the streets for four months earlier this year, for damaging the South American OPEC nation's economy.
Opponents say the economic crisis is a consequence of 15 years of socialist policies, begun by Maduro's predecessor Hugo Chavez, who ruled from 1999 to 2013 before his death.