Soaring Swiss franc may leave EU mortgage holders homeless
Comments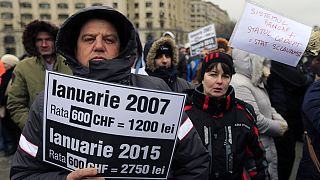 Around 800 Romanians with debts and mortgages denominated in Swiss francs (CHF), have protested in Bucharest for protective financial measures.
Some of their home repayments have more than doubled since the Swiss National Bank removed the cap on its currency. Most of them fear losing their homes if nothing is done.
A possible solution for the clients with loans in Swiss francs is to restructure bank debts, Daniel Daianu, Member of BNR's Board of Directors said.
The crisis of CHF-denominated loans, caused by the Swiss National Bank's decision to no longer peg the CHF to the euro, has generated a storm in many European countries, just as it did in Romania.