Supreme Court to review lethal injection executions in Oklahoma
Comments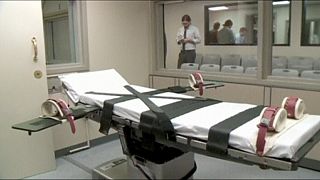 America's Supreme Court has agreed to review Oklahoma's controversial method of execution by lethal injection.
It is taking up a case brought by three death row inmates, who accuse the state of violating the US Constitution's ban on cruel and unusual punishment.
The three-drug process used by Oklahoma prison officials has been in the spotlight since a botched execution last year. Clayton Lockett could be seen twisting after staff failed to place the IV correctly.
The inmates challenging the state's procedure argue that the sedative used, midazolam, cannot achieve the level of unconsciousness required for surgery and is therefore unsuitable for executions.