King Abdullah death: World leaders gather in Riyadh to offer condolences
Comments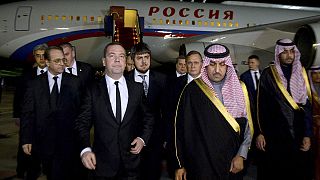 World leaders have been gathering in Saudi Arabia to pay their respects after the death of King Abdullah.
The visiting officials met Abdullah's successor, King Salman, in Riyadh.
Russian Prime Minister Dmitry Medvedev was among those who travelled to the Kingdom. Morocco's King Mohammed VI also offered his condolences.
The UK was represented by prime minister David Cameron and Prince Charles, while Francoise Hollande came to lead the French tribute.
US President Barack Obama – en-route to India – called King Salman from Air Force One to express his sympathies. He will cut short his Asia visit to be in Riyadh on Tuesday.
King Abdullah was buried in an unmarked grave, in keeping with tradition, after Friday prayers.
Other remembrance ceremonies are planned over the coming days.