Alpine skiing: Very Gut downhill victory
Comments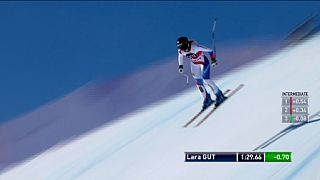 Lara Gut celebrated a home snow victory on Saturday.
The Swiss Olympic Bronze medallist recovered from a slow start to master the bottom half of the new Engadina course to win a world cup downhill race.
The 23-year-old overcame the icy conditions that caught many others out, to clock a winning time of 1 minute, 43.82 seconds.
It was her 12th career World Cup triumph.
Austria's Anna Fenninger crossed the line in second place.
The Olympic Super G and last season's overall World Cup champion was 0.32 seconds behind.
She now has six runner-up finishes so far this campaign and no victories in defense of her World Cup title.
Hungary's Edit Miklos was the long-time early leader of the event but was eventually pushed down the podium placings to third trailing Gut by 0.58 seconds.
It was, however, the best result of her World Cup career to date.
American Lindsey Vonn almost crashed out in her first race since setting the all-time record for World Cup victories on Monday with her 63rd win.
The 'Speed Queen' who leads the downhill standings, recovered to finish 23rd.