Conflict 'one of the greatest drags on global growth' says World Bank President
Comments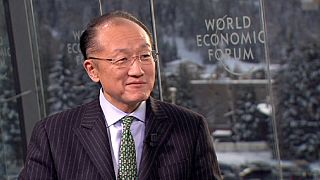 Risk seems to be one of the bywords of 2015 and uncertainty over the economic outlook is prevailing.
Dr. Jim Yong Kim is the 12th president of the World Bank Group
He was appointed to the post in 2012
He is a physician and anthropologist
Born in 1959 in Seoul, South Korea
Dr. Kim moved with his family to the United States at the age of five
Euronews' Isabelle Kumar took the global economic pulse at the annual World Economic Forum in Davos. There, she discussed the year ahead with the President of the World Bank, Dr Jim Yong Kim.
Watch the interview above