Argentina: Fernandez says prosecutor death was 'not suicide'
Comments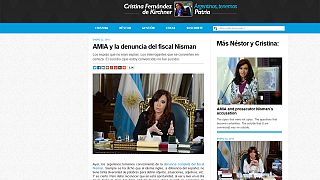 Argentina's president Cristina Fernandez says the death of a prosecutor – investigating a Jewish community centre bombing – was not suicide.
Alberto Nisman had accused of Fernandez of trying to cover up Iran's alleged involvement in the 1994 attack on the AMIA centre in Buenos Aires, which killed 85 people.
Nisman was found dead in his apartment on Sunday, hours before he was due to present his case to congress. He had a bullet wound in his head and a handgun beside his body.
The government says two witnesses in Nisman's case had been falsely presented to him as state spies.
In an open letter posted online, Fernandez claims they used him and then needed him dead.
Demonstrators have been gathering outside the Jewish centre, calling for justice for Nisman.
The centre's president is demanding the circumstances surrounding his death are clarified.