Ukraine crisis: Reports of up to 9 dead in Donetsk blast
Comments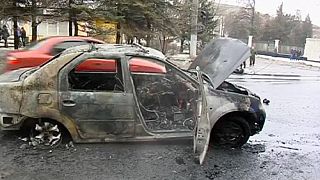 Reports suggest as many as 9 people were killed in an explosion at a bus stop in Donetsk, eastern Ukraine on Thursday morning (January 22).
The blast is believed to have been caused by either a shelling or a mortar attack.
Local authorities say bus passengers and someone in a nearby car were among the victims.
The rebel-held city has seen a spate of violence in January. A week before the shelling, 13 people died when rocket fire struck a bus in Buhas, south-west of Donetsk.
On the same morning a military spokesman announced Ukrainian forces would withdraw from the rebel-controlled new terminal at Donetsk International Airport.
The Ministry of Defence says six soldiers were killed in a 24-hour period between January 21 and 22, 2015.