Turning the tide against ISIL: US-led coalition holds key talks in London
Comments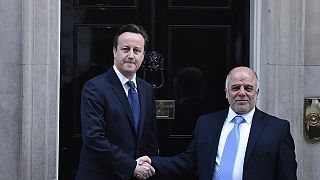 Iraq's Prime Minister Haider al-Abadi met British premier David Cameron on Thursday. The encounter came as foreign ministers from over 20 countries in the US-led alliance against the jihadist group gathered in London to co-ordinate their strategy.
Iraqi forces are still months away from launching proper combat operations according to the UK's Foreign Secretary Philip Hammond. He says that even with coalition airstrikes, it may take up to two years to expel the militants from Iraq.
ISIL also controls large swathes of Syria, its ranks swollen by foreign fighters, many from the West.
The London meeting will tackle how to stem that flow, as well as curbing the group's finances and propaganda.
It is taking place as time runs out for two Japanese hostages who ISIL has threatened to kill unless Tokyo pays a $200 million dollar ransom.
In an online video released on Tuesday, a black-clad figure holding a knife and standing between two kneeling men in orange clothes, gave Japan 72 hours to respond to the ransom demand, which he linked to Tokyo's pledge of $200 million in non-military aid for countries battling Islamic State militants.