Yemen crisis: UN condemns rebel attack on home of president
Comments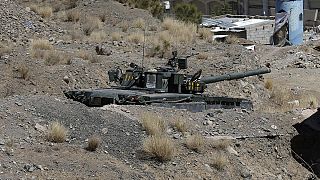 The collapse of a ceasefire in Yemen sparked by the shelling of the president's home by Shia Houthi rebels has been strongly condemned by the UN.
According to Yemeni media President Abdrabbuh Mansour Hadi has fled the capital Sanaa.
Responding to the attack the UN's Security Council held an emergency session:
"The members of the Security Council urge all the parties in Yemen to resolve their differences through dialogue and consultation and to reject acts violence to achieve political goals, to refrain from provocation," said Chile's UN Ambassador, Cristian Barros Melet.
Rebels had earlier entered the presidential palace after several days of intense fighting with government troops. Their leader Abdel Malek al-Houthi has been in dispute with Yemen's government since September, accusing it of corruption.
He claims his men have been trying to protect a power sharing deal which the government has failed to implement.
The emergence of the Houthis as Yemen's top power has scrambled alliances, raising fears of deeper instability that has one of al Qaeda's most active branch
Washington's concern about the turmoil in Yemen is growing as it relies on the Yemeni government for help in US counter terrorism operations against al Qaeda in the Arabian Peninsula.