France is to recruit thousands of extra police, spies and investigators to boost national security and intelligence, Prime Minister Manuel Valls announced on Wednesday, two weeks after 17 people were
Action against terrorism, jihadism, radical Islamism will be a long term struggle
France is to boost its anti-terror strategy by creating more than two-and-a-half thousand jobs to carry out security, intelligence and surveillance work.
More Muslim clerics are to be recruited to tackle radicalisation in prisons.
Announcing the plans following the terrorist attacks in Paris which killed 17 people, Prime Minister Manuel Valls said:
"This terrible shock that we suffered has reminded us of the intensity of the threat weighing on our country and which today remains at a very high level. Action against terrorism, jihadism, radical Islamism will be a long term struggle."
Over three years 2,680 people are to be be recruited, with some 425 million euros invested in new equipment. Reports say the total cost including that of personnel will be over 700 million euros.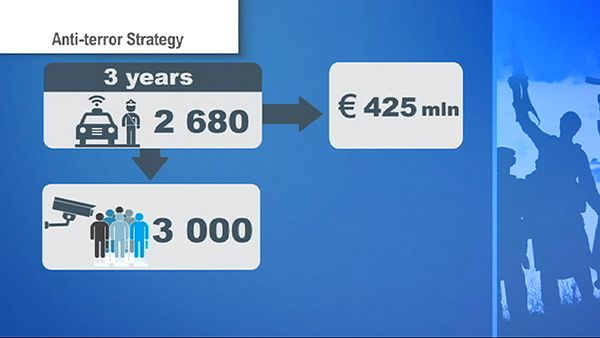 It's thought that some 3,000 individuals need monitoring. Nearly half are thought to have fought in Iraq or Syria.
Sixty extra Muslim clerics are to be employed in prisons to work with potential militants, on top of over 180 already working there.
More special units are to be set up to tackle radicalisation among inmates.
Despite the extra commitments, Valls said France would respect its promises to EU partners to rein in public finances.
The French government also said on Wednesday that it would cut 7,500 fewer defence jobs than previously planned over the next four years, in response to increased security needs.
France has already deployed over 10,000 troops across the country to protect public places and sensitive sites.
But intelligence gathering is thought to be the new top priority.