Obama calls on Republicans to end partisan politics in his sixth State of the Union
Comments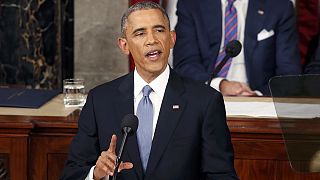 President Barack Obama has put an improving US economy and foreign policy achievements at the centre of his sixth State of the Union address.
With only two years left in office it was a chance to take credit for past policies and introduce new plans such as a tax hike on the rich and raising the minimum wage. But he knows he is up against it with a Republican controlled Congress.
"We've seen the fastest economic growth in over a decade, our deficits cut by two thirds, a stock market that has doubled and healthcare inflation at it's lowest rate in 50 years. So the verdict is clear… These policies will continue to work, as long as politics don't get in the way," warned Obama.
On foreign policy Obama revived a promise he made when he first took office – to close the US military prison at Guantanamo bay. But his main target was a threat which hadn't even been on the radar back then:
"In Iraq and Syria, American leadership – including our military power – is stopping ISIL's advance. Instead of getting dragged into another ground war in the Middle East, we are leading a broad coalition, including Arab nations, to degrade and ultimately destroy this terrorist group… This effort will take time. It will require focus. But we will succeed."
It was certainly an up beat Obama at the end, knowing that he has more leeway in foreign affairs but relations with the Republicans over domestic issues have already got off to a rocky start this year with the president threatening to veto seven bills if Congress tries to diminish his much treasured legacy.