Russia has up to 9,000 troops in Ukraine, says Poroshenko
Comments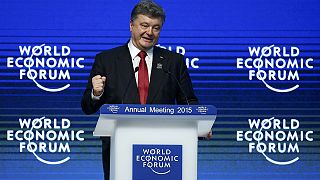 Ukraine claims Russia has up to 9,000 troops on its territory as fighting between pro-Russian rebels and Ukrainian forces intensifies in the east of the country.
We have more than 9,000 Russian Federation troops on my territory
Russia has once again denied accusations from Kyiv that Moscow is sending troops to Ukraine.
It came ahead of talks in Berlin on the Minsk plan, which sets out a series of points to which both sides agreed last year, but which failed to stop the fighting.
"I promise you, we will have an absolutely clear and stable situation in Ukraine if Russia fulfills point number four (of the Minsk plan): close the border and withdraw all the foreign troops from my territory," said the Ukrainian President Petro Poroshenko speaking at the World Economic Forum in Davos, Switzerland. "Because now, and the dates of our intelligence confirmed by independent sources, we have more than 9,000 troops of Russian Federation on my territory."
The Russian Foreign Minister, Sergei Lavrov said he would seek an immediate ceasefire at the talks and asked for proof of Moscow's involvement in the conflict saying, "We have heard of it many times. I always say that if you are saying it with such certainty, then show us the facts. No one is able to provide us with the facts or does not want to provide them, I do not know."
NATO countered this saying it had seen an increase in the number of tanks and other heavy artillery being used by Russian troops in eastern Ukraine in recent months and renewed a call for Moscow to withdraw.