Tight presidential race as Zambia goes to the polls
Comments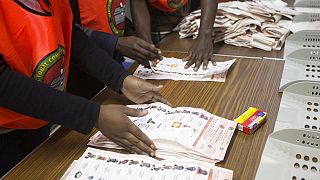 Zambians have been voting for their next leader in a tight race between a populist lawyer and a wealthy economist after the previous president died last year.
Edgar Lungu, , leader of the ruling Patriotic Front (PF) is thought to have a slight lead over Hakainde Hichilema, whose United Party for National Develelopment (UPND) has been trying to woo Zambia's middle class and investors.
Lunga's campaign has focused on tapping into the support of the late President Michael Sata. He was a populist leader who had won over the working class by funding infrastructure projects in poor, rural areas.